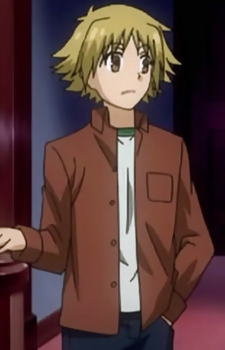 L
exus
N
erfen
═══════════════════════════════════════════
═╣ main info ╠═
☼
Full Name:
Lexus C, Nerfen
☼
Nick Name:
L, Lex
☼
Age:
20
☼
Birth Date:
August 5
☼
Gender:
Male
☼
Race
Caucasian, Australian
☼
Played By:
StormPaw
═══════════════════════════════════════════
═╣ minor info ╠═
☼
Likes:
Sci-Fi Action Movies/Games, Quarterstaff(Stick fighting), History
☼
Dislikes:
Various Video-Games, Science
☼
Traits:
Quoter, Smart.
☼
Flaws:
Usually Shy and Silent.
☼
Family:
Jacqueline D. Althma (aunt)
☼
Friends:
None.
═══════════════════════════════════════════
═╣ Equipment Info ╠═
pair of sunglasses.
═══════════════════════════════════════════
═╣ specialization info ╠═
☼
Name:
"Typical" FPS-Gamer
☼
Description:
its time to kick ass and chew bubble gum but im all out of gum is one way to put it but with no physical experience from actually doing any of it in the real world this FPS Gamer has a lot to know,
"also a running gag"
☼
Application:
with some know how and no experience this Psyched Gamer is the bad-ass with the lines but the coward to flee, in the gaming world he is a king but in the real world just the silent guy in the corner.
☼
Name:
Historian
☼
Description:
Paulus Hector Mair, is one of Lex's favorite topics to study as Mair compiled a voluminous, encyclopedic compendium of the martial arts of his time, collected in 16 books in two volumes, it was though a history lesson lexus learned of the two and held high interest in Quarterstaves.
☼
Application:
extensive knowledge of Paulus Hector Mair and his collection and compiling of the Fechtbücher as well as little of Quarterstaff Fighting.
═══════════════════════════════════════════
═╣ character description ╠═
☼
Personality:
Nice and rather shy to new people, talkative about games, prone to quoting some line from some game or character when it suits.
☼
Quote:
"huh, oh?...umm... hi-hello..."
"You know, one thing I like about the bad guys is that there's always a lot of discussion before they get to pulling the trigger."
☼
Height:
5'8'
☼
Weight:
92 lbs
☼
Eye Color:
brown
☼
Distinct Marks:
N/A
☼
Theme:
═══════════════════════════════════════════
═╣ background information ╠═
Lexus is your typical gamer but a bit of a whiz kid when it comes to PC technology, preferring old-school games over the new generation of games available Lexus tends to be alone and has only a rare few friends but that changed when he chose to leave his home and spend a two years else where in the world with his aunt who was offered a better job due to her expertise in science, this also meant he was going to new school in the local area as well, because he was once again alone, Lex's shyness grew worse when talking to others but the topic of video games and PC's seemed to always get him talking with out a problem, his imagination is vast and accepting of just about everything but his shyness makes it hard for him to befriend people but at least lexus got something out of it all, he was introduced to a history class on the topic of the Middle Ages, finding the history class boring lex was planning on dropping out of it as soon as he could though for the mean time he had to at least look at something quickly finding Mair by accident something about the Augsburg civil servant held his attention perusing him to dig deeper and learn of the "German Fechtbücher".
═══════════════════════════════════════════